FlipProbe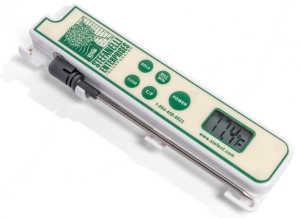 Choice of Professionals
VITAL FOR:
FDA, QC
Portable Temperature Probe • Fast response time
folds safely out of the way • Factory Calibrated – No tampering
– fits in your pocket! • N.I.S.T. Traceable
Handy to use! Magnetized to cling • Water – resistant
to metal surface, hangs from top • ISO 9002 MFG, ϲϵ Europe
or attach this handy belt clip.
Accurate Operating Temperature Range: • √RoHS
-40°F – 302°F (-40°C – 150°C) 2002/95/EC
The USDA recommends the following cooking temps.
ITEM INTERNAL TEMP.
Ground Beef, Veal, Lamb, Pork.. 160°F.. .. 71°C
Ground Turkey, Chicken ……………. 165°F.. .. 74°C
Fresh Beef, Veal, Lamb ……………… 145°F.. .. 63°C
Fresh Pork ……………………………………….. 160°F.. .. 71°C
Fresh Chicken, Turkey ………………. 165°F.. .. 74°C 1-954-458-4023
Fish …………………………………………………….. 145°F.. .. 63°C
Egg Dishes ………………………………………. 160°F.. .. 71°C
Refer to USDA for complete list